Professor Inauguration Ceremony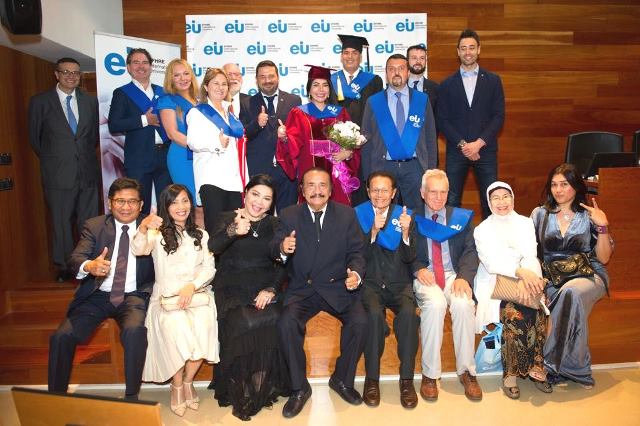 WOCPM - VINSKI TOWER LAUNCHED!!!
Inaugurated by His Excellency Vice President of Indonesia / WOCPM Advisor Drs. H. M. Jusuf Kalla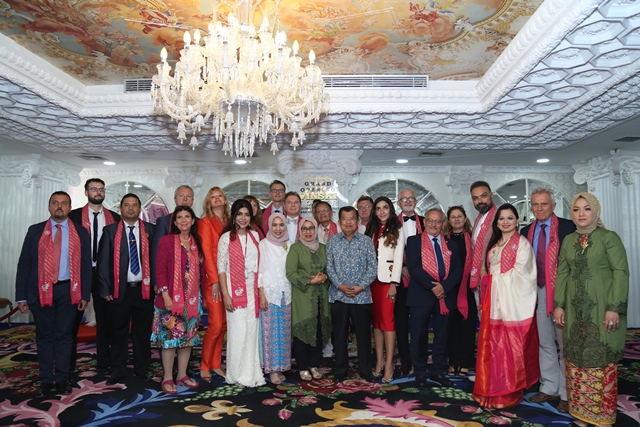 World Council of Preventive, Regenerative, and Antiaging Medicine (WOCPM) is a professional nonprofit organization, established by independent medical scientists, presidents of universities, dean of medical programs, and practicing doctors who in October 2014 launched a consensus declaration in Paris to form a strong communal body to facilitate the needs and requirements within the said professional norms (see the WOCPM World Consensus Declaration).
WOCPM hereby express our high appreciation to Euromedicom, AMEC congress Paris WOSIAM, All Scientist and All Participants for the supports and contributions dedicated to the event of 2nd WOCPM World Consensus in Paris on 25th October 2014.
WOCPM
WORLD CONSENSUS DECLARATION
We are comprised of independent experts and scientists, Presidents of Universities, Deans of Medical Programmes, Country Representatives of WOCPM and Practicing Doctors in Preventive, Regenerative and Anti-Aging Medicine, amongst others. We assess the need for Research and Development, Education and Accreditation for Preventive, Regenerative and Anti-Aging Medicine for the needs of Humanity, as regards improved quality of life, wellness, peace and a healthy environment.
Accordingly, we agree on the following points:
That we in the World Council (WOCPM) are united with the objectives to conduct Research and Development in Preventive, Regenerative and Anti-Aging Medicine and to keep ourselves current and updated with new developments and continuous progress in the medical profession with emphasis on the Preventive, Regenerative, and Anti-Aging domain.
That we will integrate our vision and mission to provide medical treatments in the best interests of humanity through Professional norms and the highest standards in line with the values of the World Council. For this purpose, scientific protocols for diagnosis, treatment, hormonal restoration, stress therapy, genetic tests and therapies, nutritional considerations, laboratory procedures, technology development and other procedures related to Preventive, Regenerative, and Anti-aging Medicine will be adopted by the World Council.
That we are aware of, and respect, the wide scope of professional practices in medical science where strong and smooth interrelationships must be maintained. The World Council will encourage the enhancement and enrichment of knowledge through new medical publications and professional books within the Preventive, Regenerative and Anti-Aging Medicine scope of practice.
That we in the World Council recognize the trend towards new and rapid developments in the medical profession that require continuing education in maintaining the competence of practitioners in the Preventive, Regenerative and Anti-aging Medicine field. We will take a lead role in providing consultation for the progress of national and regional governments, as well as international leaders in their strategic endeavours.
That we in the World Council are aware of our role as one of the advisory resources in our area of specialization and are responsible for providing accreditation for medical doctors, education/university programmes, medical services including hormonal, stem cell and stem cell banking; also for instruments and equipment, hospitals, clinics/centres in the field of Preventive, Regenerative and Anti-Aging Medicine and on an international basis. Good cooperation among national and international health organizations, governments, national leaders and medical societies, amongst others, are some of WOCPM's key goals.
The World Consensus Declaration of WOCPM calls upon all scientists and experts, local and national Governments as well as people in general to exert common efforts for the preservation and improvement of the human condition as regards wellness and a healthy environment, for the benefit of all.
This Consensus is signed and disseminated by the parties in Paris, France
25 th October, 2014.
World Council of Preventive Medicine
Mission
The World Council of Preventive Medicine ( WOCPM ) is a not-for-profit medical society dedicated to the advancement of Preventive Medicine to detect at an early pre-clinical phase, prevent, and treat diseases. WOCPM promotes science to optimize the human aging process, thereby combining Preventive Medicine, Regenerative Medicine and Anti-Aging medicine into one integrated clinical and holistic approach.
WOCPM is first and foremost a scientific organization, open for membership exclusively for those physicians with a University degree in Preventive Medicine.
WOCPM is also dedicated to educating physicians, scientists, and members of the public on the importance of Preventive Medicine.
WOCPM believes that the prevention of diseases is the way forward to enhance people's longevity and quality of life. WOCPM furthermore believes that prevention of disease at an early stage, will reduce the economic burden of increasing healthcare costs in an aging population.
WOCPM seeks to spread the word of Preventive Medicine and to disseminate information concerning preventive, regenerative and anti-aging strategies to increase longevity. WOCPM advocates Evidence-Based-Medicine (EBM), but understands that in some early-stage situations, a science-based approach to increase longevity is the minimum.
Objectives
To take the leadership role in clinical research in Preventive, Regenerative and anti-aging medicine in a science-based, preferably an evidence-based matter.
To share information on Preventive Medicine strategies and outcomes with other practicing physicians and health practitioners.
To develop Preventive Medicine protocols and guidelines and to assist physicians and health practitioners in the implementation of effective longevity treatment.
To be recognized as the world's leading reference for any Preventive Medicine related subject for governmental and public health authorities.
To sponsor by itself, or through funding by third parties, clinical research in Preventive, Regenerative and anti-Aging Medicine.
To provide and stimulate education and training for new upcoming Medical Professionals with an interest in Preventive, Regenerative and Anti-Aging medicine at scientific congresses, conferences throughout the world and through offering of an University-based program.
To affiliate and cooperate with other medical societies to join forces to improve longevity and quality of life of our patients.
To promote the good standing and goodwill with various Non-government organizations.